Activists of SEU begin mass oaks planting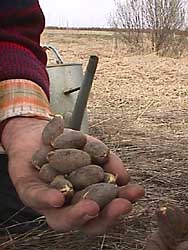 Now it's necessary to involve authorities and public in this environment friendly activity.
This spring the group of activists of Socio-Ecological Union launches a campaign on mass planting of oaks in the Vladimir region (Central Russia). As a result of two hours work of three people about 300 acorns were planted. SEU pays a lot of attention to oak activities. Because the more oaks we plant, more friendly environment we get.
The problem of closer interaction with authorities to save created plantings became more and more actual. The activists of the program "Oaks of Europe" analyze possible options of wider involvement of authorities to this ecologically friendly initiative.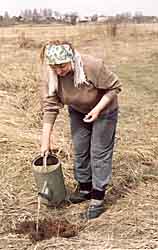 These plantings mark the beginning of restoration of oak ecosystems of Sherna river basin. The names of the neighboring rivers and villages - Dubenka, Dubrovo, Dubna, (oak is "dub" in Russian) obviously show wide distribution of oaks in this area in the past. However after many centuries of active land use, and, especially, melioration works those oaks have disappeared.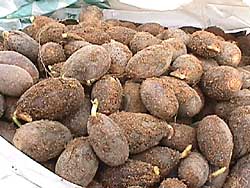 For last years violent activity of bogs drainers and straighteners of riverbeds is lesser that earlier. Due to this in the Sherna valley there was a number of quiet places, where the oaks could begin to be restored. But the problem is lack of seeds, as the oaks in vicinities are so exhausted, that there is no source of acorns in outskirts at all.
Because of strong swarding it was necessary to excise quadrate with the side in a bayonet of a shovel for each landing place and to invert sod. In each landing place was laid two acorns. Because of dryness of bedrock, the watering of a touchdown place was effected also.
Now we wait for results with huge interest.