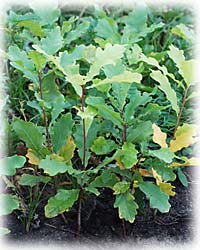 The Oaks program. Events
Bykovo in the outskirts of Moscow joined the Eurasia Oaks Project.
Dozens of oak transplants found their home in the village Bykovo in the outskirts of Moscow. Students from Bykovo, Zhukovskogo, Taldoma, Likino- Dulevo and Moscow took part in the operations on oaks regeneration. The event was carried out in the framework of the Eurasia Oaks International Project.

An Oak Forest from the Students of Vladimir.
Seven schools of the city of Vladimir take part in the Eurasia Oaks International project on broadleaf forests conservation. They have already planted first trees in Druzhba Park of the city.
Thousand Oaks to Be Planted for the Thousand-Year Anniversary of Yaroslavl.
Some time ago we told about the second working meeting on oak conservancy and regeneration, which took place in Pereslavl Zalesski in August 2006. The participants agreed that protection of transplants, giving them a legal status and including them into the regional programs and territory infrastructure should become one of the priorities of the project in question.
Regeneration of the Kozelsk Zaseka: A Unique Site of Natural and Historic Importance
Preservation of the Kazelsk Zaseka forests is of natural and historical importance. The research and restoration program in the broadleaf forests of the National Park Ugra holds as its main aim the sustainable restoration of broadleaf forests on the vast areas of the Berezich Forests.
Final results of the first Forest Olympiad
2003, February 11 in the Ministry of Education of Russia the results of the final second round of the First Forest Olympiad were summed up.
1st Forest Olympiad: the results, December, 2002, Moscow
Novgorod region: plant your own oak grove, May, 2002, Novgorod Region
Activists of SEU begin mass oaks planting, May, 2002, Vladimir Region
Oaks beauty contest, November, 2001, Veliky Novgorod
New oaks in Central Russia appeared, June 2001, Kostroma
Bringing together. Experts, local community and national culture, June 2001, Yaroslavl